On October 27, a employee at Santa Rosa Junior College discovered a two-pound injured puppy abandoned in a parking area close to the organization. The small Chihuahua remained in awful pain because its front legs were damaged.
Fortunately, the adorable dog was transferred to the Sonoma County Animal Services for treatment, where 2 pink casts were put on her legs. The Chihuahua, now known as Darla, was just 14 weeks old and weighed just 2 pounds. She had surgery to repair her legs, and the prognosis was for total recovery.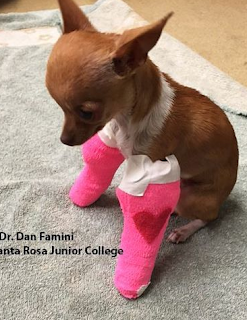 According to Dr. Dan Famini, that posted her tale online, the good news was that she was fostered to continue her healing and would certainly await adoption once she had actually fully recovered. What a happy conclusion! See the video down below.