Julie Docherty wasn't extremely keen on adopting a pet right after moving to Los Angeles. It was a huge commitment and she was still getting made use of to her new location, so she volunteered to walk dogs at a close by shelter instead. However on her very first journey to the sanctuary, she loved MoMo the 11-year-old Chihuahua and ultimately ended up taking him home!
After realizing that the dog has lots of senior dogs, she determined to undertake three greater chihuahuas. One of the most fascinating thing about Julie's 4 Chihuahuas (Benito, MoMo, Choli and Paloma) is that none of them have a single tooth in their mouths– and they are still absolutely perfect!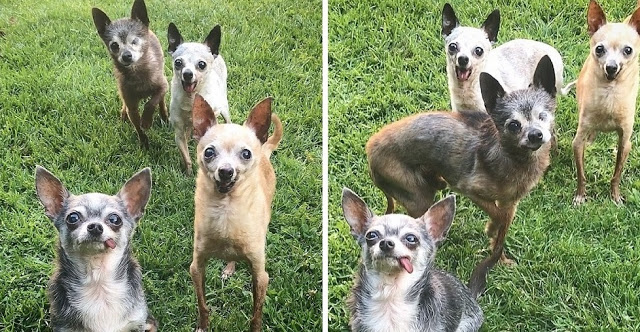 With each other, the quartet is much like a senior puppy club that do whatever together. From basking in the sunlight to napping together, this lovable Chihuahua squad is living their grand retirement years like kings and queens!
Julie commenced taking senior puppies right into her domestic to help them spend their golden years in a continually home. What a first-rate woman!